Kerrie Hoar, M.S., CPDT-KA, IAABC-ADT, LFDM, FFCP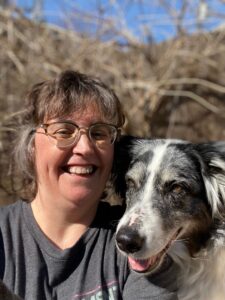 Kerrie Hoar is the owner of Crimson Hound, LLC. As a Family Dog Mediator®, she takes a different approach to dog training. Rather than concentrating solely on obedience, Kerrie focuses on helping her clients to build relationships with their dogs that are based in trust and understanding. FDMs look at how L.E.G.S.® have come together to create the dog sitting in front of us and use realistic goal setting, management protocols and, when necessary, teach new behaviors to create a situation that will meet both the client's goals and the dog's needs. Kerrie's training philosophy is grounded in rewards-based methods and LIMA standards. She does not prescribe to methods that use force, coercion and punishment.
Kerrie's teaching experience includes over 20 years of teaching humans at the university level.
In addition to private in-home and virtual sessions, Kerrie also has experience teaching group classes for puppy socialization, basic manners (obedience) and reactivity. She specializes in helping dogs who exhibit fearful, anxious and aggressive behaviors. As a certified professional trainer, Kerrie prides herself in continually expanding her knowledge of dog behavior and training techniques through attaining certifications, attending workshops and conferences, reading the latest literature and networking with colleagues to remain on the cutting edge of the science of dog behavior.
Animal welfare has always been a passion for Kerrie.
She has fostered dogs, driven and coordinated rescue transports and volunteered at shelters and rescues. Kerrie offers free consultations to rescues and shelters and is a participating trainer in the Humane Alliance of Rescue Trainers, where she donates training sessions to help rescue dogs who are experiencing fearful, anxious or aggressive behaviors.
Born and raised in Montana with a menagerie of different animals, Kerrie and her husband have lived in La Crosse, Wisconsin for over 25 years. They have two grown children, four dogs, and three backyard chickens.
Education
Master of Science – Biology, Montana State University
Bachelor of Science – Biology, Montana State University
Bachelor of Science – Animal Science, Montana State University
Certifications and Credentials
Professional Affiliations
Certification Council for Professional Dog Trainers (CCPDT)
International Association of Animal Behavior Consultants (IAABC)
Pet Professional Guild (PPG)
Humane Alliance of Rescue Trainers (HART)
Pet Industry Advocacy Innternational (PIAI)
Webinars
What is Family Dog Mediation? (2/25/23 for Your Dog's Friend)