What makes for a great dog walk? Is it a power walk through your neighborhood with your Fitbit tracking your every step? Nope. That is YOUR walk. What your dog wants is an opportunity to just go where he wants to go and do what he wants to do. The ideal 'walk' for your dog is a time to just run free … time to just "dog" … to roll in the grass, to sniff, to dig, to chase critters …. The term decompression walk was defined by Sarah Stremming as "a walk where the dog is allowed freedom of movement in nature". Decompression time for your dog has the same benefits as it does for us humans. Studies have shown that sniffing actually lowers your dog's pulse rate and reduces their stress.
The best experience for any dog is time spent off-leash. If you plan to allow your dog to run off leash, there are some very important things to consider before you head out the door:
Are there ordinances in your area about off leash dogs? If so, make sure that you are going to off-leash friendly areas. Don't be the dog owner that lets your dog off leash in on-leash only locations.
Make sure that your dog has a bomb-proof recall before letting your dog off leash in an un-enclosed space. Nothing good is going to come from this.
Be aware and respectful of others. Keep this in mind and prevent your dog from harassing others (remember that bomb-proof recall in #2). Not every dog wants to be your dog's friend and not every person is comfortable around dogs … and they have the right to enjoy that space without being harassed by an off-leash dog.
But, what if you don't have off-leash zones in your area, your dog doesn't have a solid recall yet or she isn't good with strange dogs or people?
Sniffspot is an online service that lists private "dog parks" that can be rented for solo use. These spaces may be as simple as someone's backyard or they could be acres and acres of fenced land. Sniffspot is growing, but you won't find spaces in every location.
No Sniffspots available in your area? No worries.
Even if you can't find a safe space for a true off-leash experience, you can still get many of the benefits of off leash time through a more controlled Sniff Walk, or Sniffari. A sniff walk is a walk during which your dog is allowed the freedom to be a dog while still safely controlled with a harness and long line.
Sniff Walk How-To's:
Equipment:
Long line. A long line is just a extra long leash that comes in lengths anywhere from 10 to 100 feet. They are great for training recalls, but make the perfect sniff walk leash. You can purchase a long line or simply make your own. Tie a clip to one end of a length of rope to hook to your dog's harness. Then tie a loop at the other end for a handle.
Harness. A harness is much safer than a collar for any walk. Look for a harness that allows full range of motion. For example, harnesses with a band across the chest restrict shoulder movement.
Hands free leash system (optional). A hands-free belt to attach your long line to works great to free up your hands. Now you can dispense treats or handle the line to keep it from getting tangled.
Treat pouch with treats or kibble. If your dog has never been on a sniff walk, you may need to toss a few treats into the grass/bushes to encourage him and let him know that it is okay to sniff. Instead of treats, toss the food bowl and take your dog's meal along to scatter feed in the grass.
Poop bags. Clean up after your dog.
Do not allow your dog to damage/destroy private or public property – including digging, crushing plants, etc.
I do not recommend using a retractable leash for several reasons:
First, they are dangerous. Many a dog owner or bystander can attest to retractable leash injuries such as rope burns, cuts, and even amputations. If you drop the leash, many dogs are terrified by the handle "chasing" them – making them harder to catch or, worse, causing them into run into traffic in an effort to escape. Finally, our goal is a relaxing walk and retractable leashes maintain a constant tension on the line which is not relaxing for the dog.
How do you find a safe space for a Sniff Walk?
If you live in a rural area, you probably don't need to look too far to find a wonderful enclosed space for you dog to explore. But what if you live in a more urban area? Here is how you can locate a safe place for a sniffari.
First, set Google Maps or Mapquest to 'satellite' mode and type your home address into the search box.
Next, look for green spaces within easy walking or driving distance. Yes, you may need to drive a bit to find a good location.
Once you have located some potential spaces, check each one to determine if it will fit your needs. On the map below, I have marked potential green spaces in my area.
Check land ownership and local ordinances.

The red zones on the map are great spaces, but, sadly, off limits to dogs. Check your local ordinances for parks and cemeteries. If dog friendly, these make great sniff zones.
The purple and blue zones are all dog-friendly possibilities. The two largest purple zones are filled with fantastic nature trails. However, I have reactive dogs and these trails are often narrow with few opportunities to allow enough space for other dogs to pass by without triggering reactions. Since point of a sniff walk is to allow your dog to decompress, these areas are not good options for reactive dogs. Be sure to keep these kind of things in mind when searching for sniff walk spaces.
The little rectangle towards the top of the map is a tiny dog park. On occasion, I have been able to get this space all to myself, but it not always open and is quite small.

So, that leaves the blue zone.
This is a university campus and just happens to tick all th boxes.  
Dog friendly (allow dogs and safe)
Easy walk from home (or easily accessible by car)
Plenty of green space and interesting textures, surfaces and smells to explore
Plenty of space to allow my dogs to get the distance they need from triggers
Tons of great places to sniff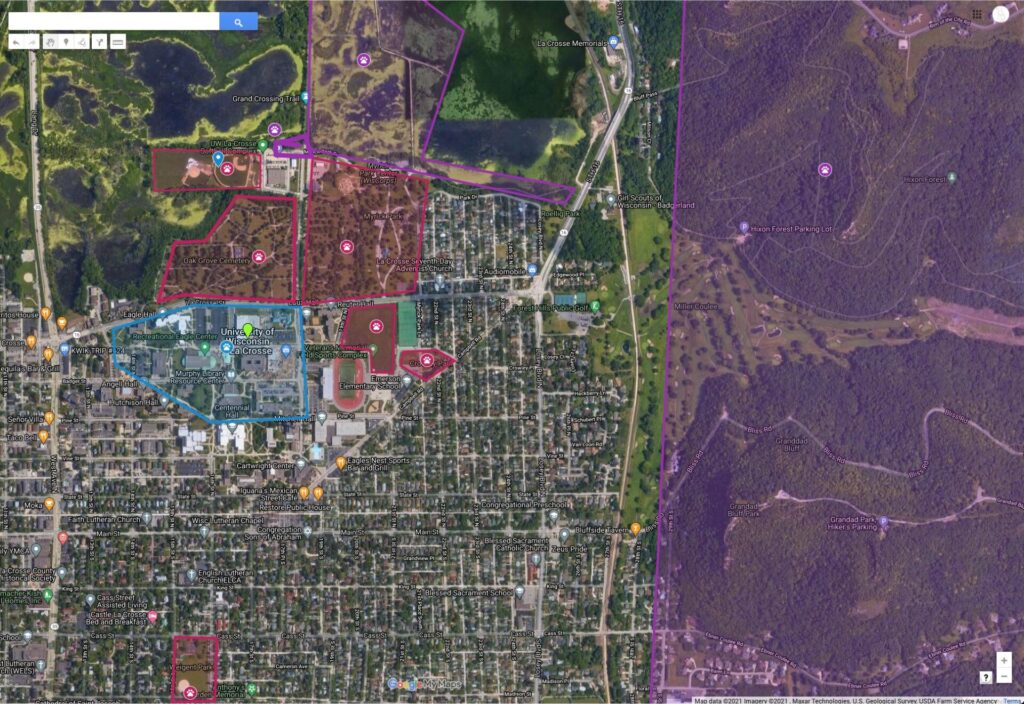 Throughout COVID many college campuses and other public spaces have been relatively quiet zones – a definite perk for those of us with reactive dogs. When students and faculty are on campus, however, I simply time my walks for less active times of the day. In general, however, you won't find owners out on sniff walks spending much time on the sidewalks. We are generally following our dogs across the lawns and checking out the bushes. So it is not too hard to avoid the human crowds.
Other great space options to check into:
Cemeteries
School campuses
Parks and playgrounds
SniffSpot
Office parking lots or industrial parks
Beaches and waterfronts
Quiet neighborhoods
Empty dog parks
Nature center
Visitor center or rest area
Picnic area or campground
Paths and trails (beware of narrow trails)
Golf courses
Private lands
Farms
Church grounds
*Be sure that you contact the property owner and/or check local laws and statutes before taking your dog onto private property.
So, now that we have the equipment and the space that we need, join us as we take our morning sniff walk!
I choose to take our sniff walks in the morning and bring breakfast along in my treat pouch. I use two-point attachment leashes – long leashes with clips at both ends and multiple rings to allow you to adjust the length of the lead. These give me the versatility of having 4-foot leashes when walking through the neighborhood, and the ability to allow the full 8 feet of line for sniffing.
Once on campus, I can let out the lines. My 8-foot leashes don't allow for as much freedom as a 15- or 30-foot long line. That said, they do allow me to take everyone out together and maintain control if we encounter groups of people on campus. It is also convenient for me to not have to carry along four separate long lines every day.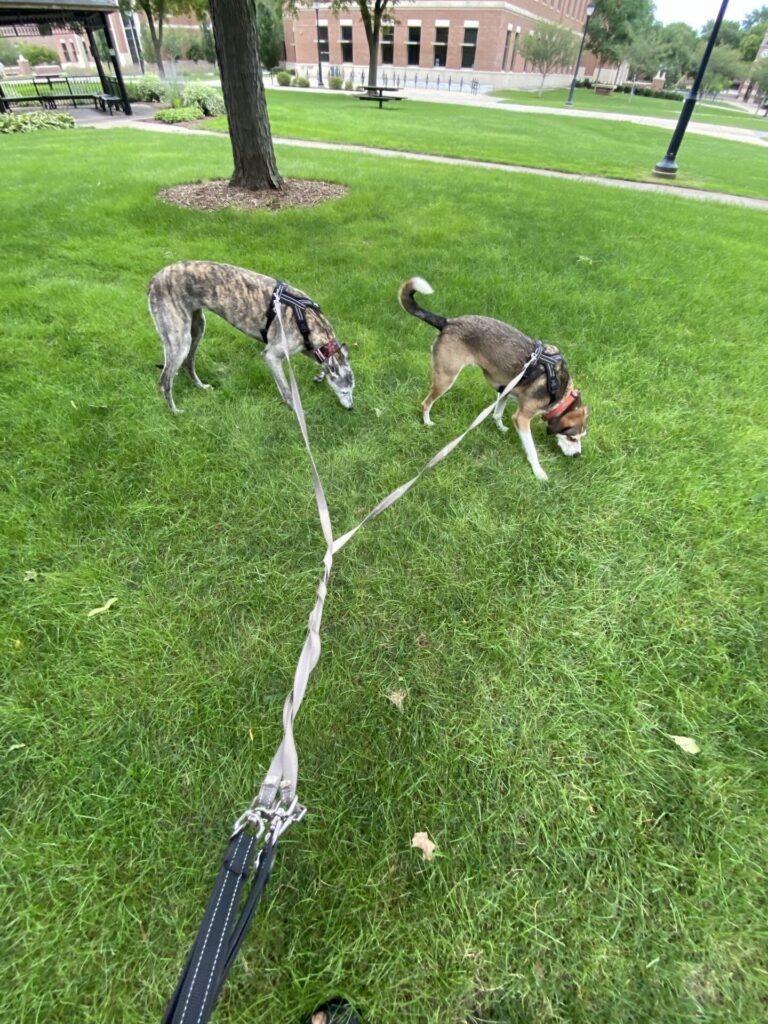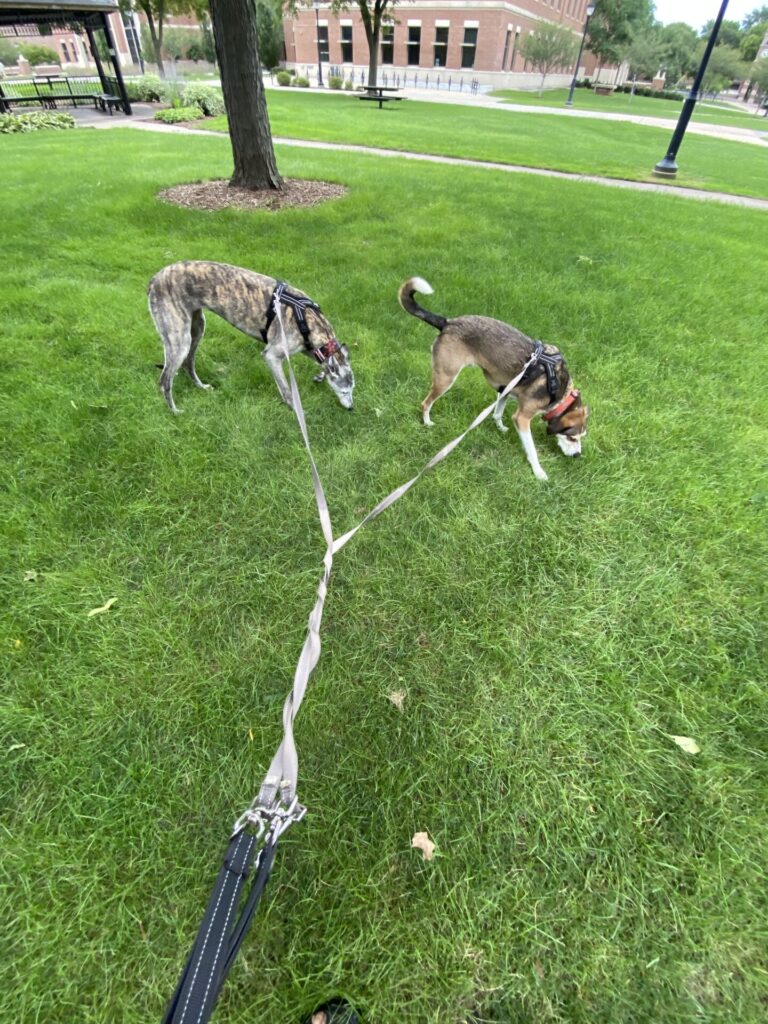 Once I lengthen the leashes, the dogs are in charge.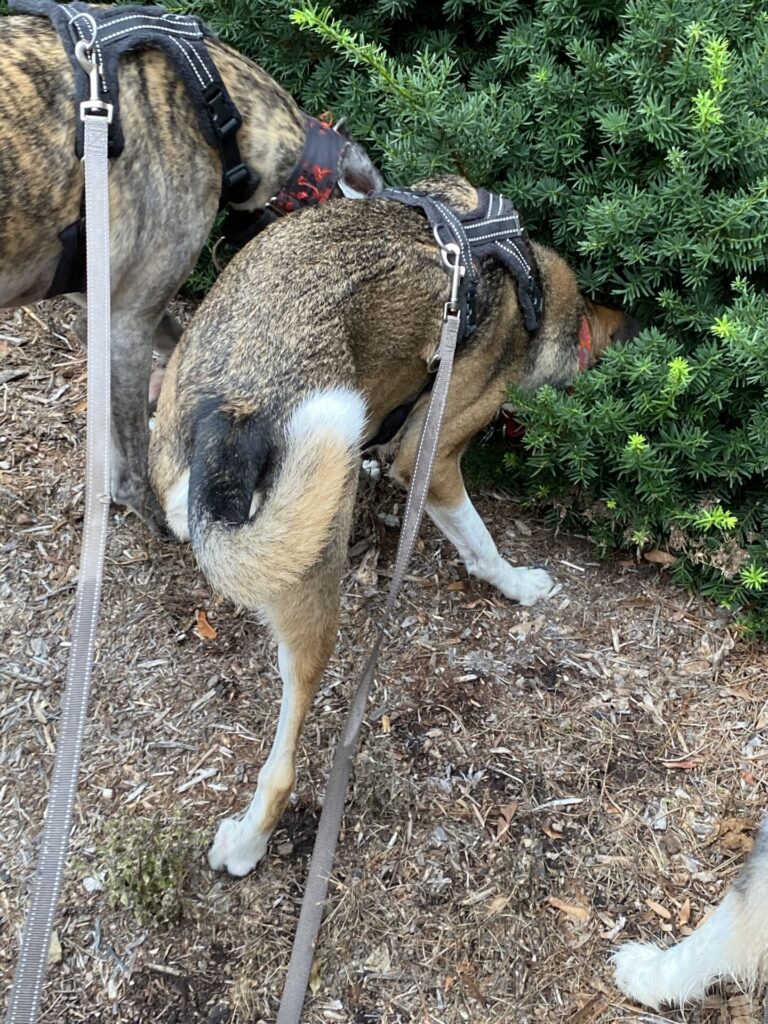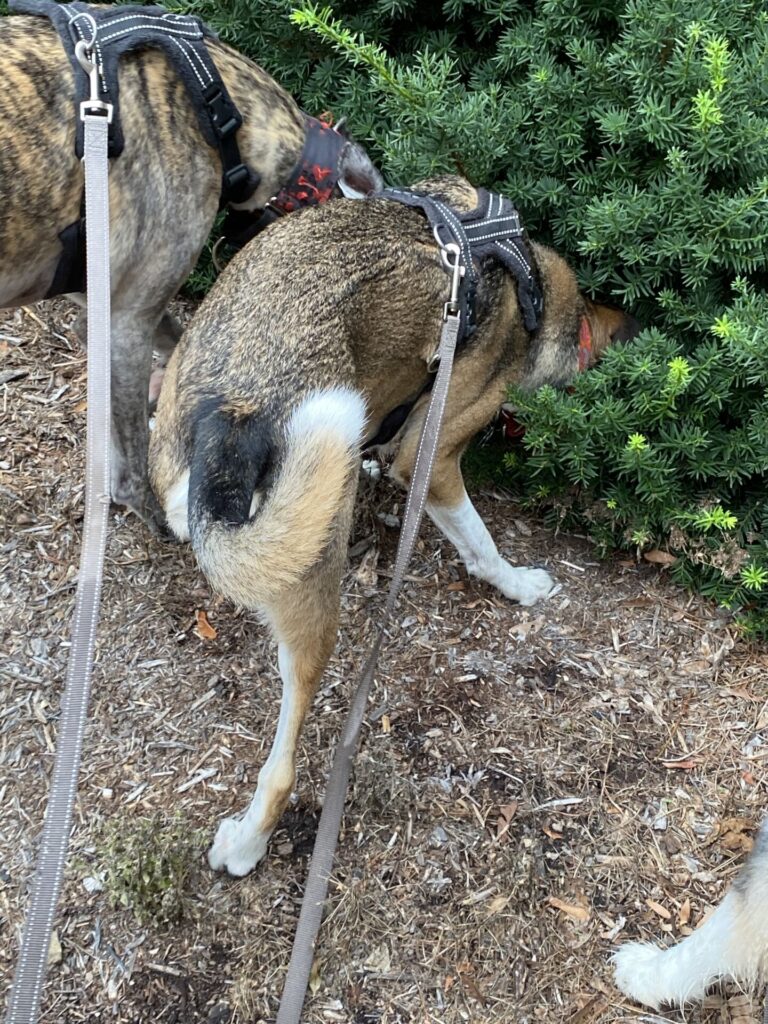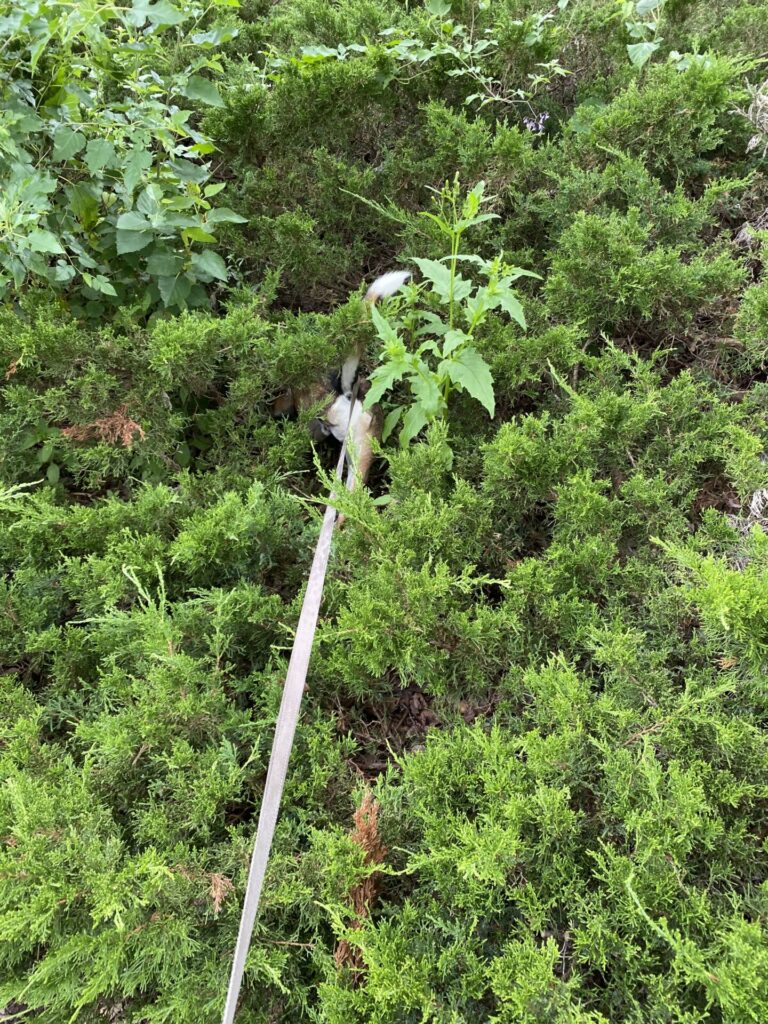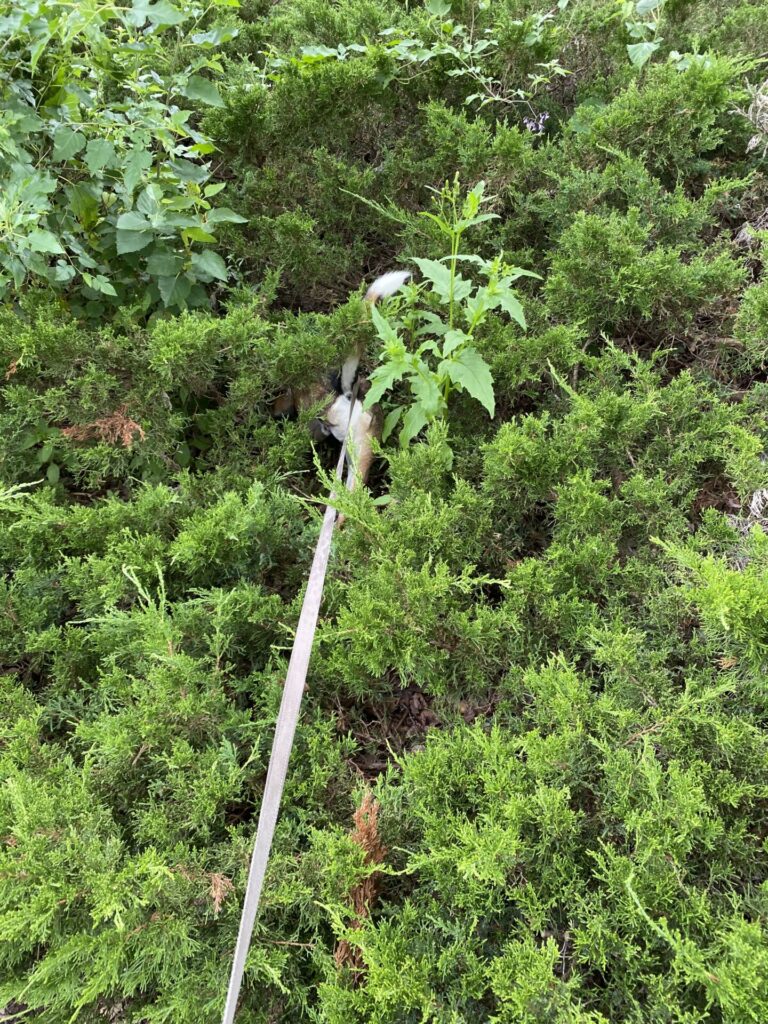 We go wherever they take me and sniff whatever they want and for as long as they choose. One exception: They are allowed to sniff the flowers, but not trample through the beds.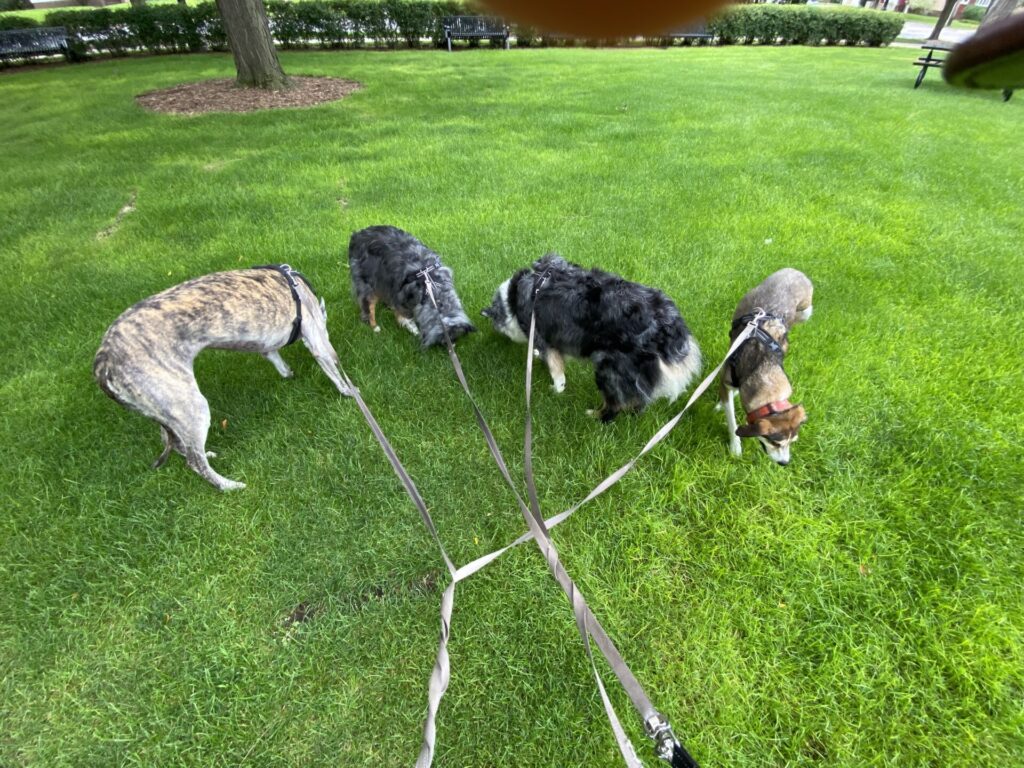 Occasionally, I will toss out a handful of kibble in the grass for them to snuffle. The dogs are in charge here as well. They choose the scatter spots by slowing down and looking back at me. Once they have finished their snuffling, we are off again.
IMPORTANT
Do NOT try to scatter feed with multiple dogs in the same space without some prior training. Sign up for a consultation with me, or talk to your dog trainer about safety layers that can be used when working with multiple dogs. Never do this if any one of your dogs has even a hint of resource guarding tendencies. Instead, either take your dogs for solo sniff walks or do scatter feeds back at home in separate spaces.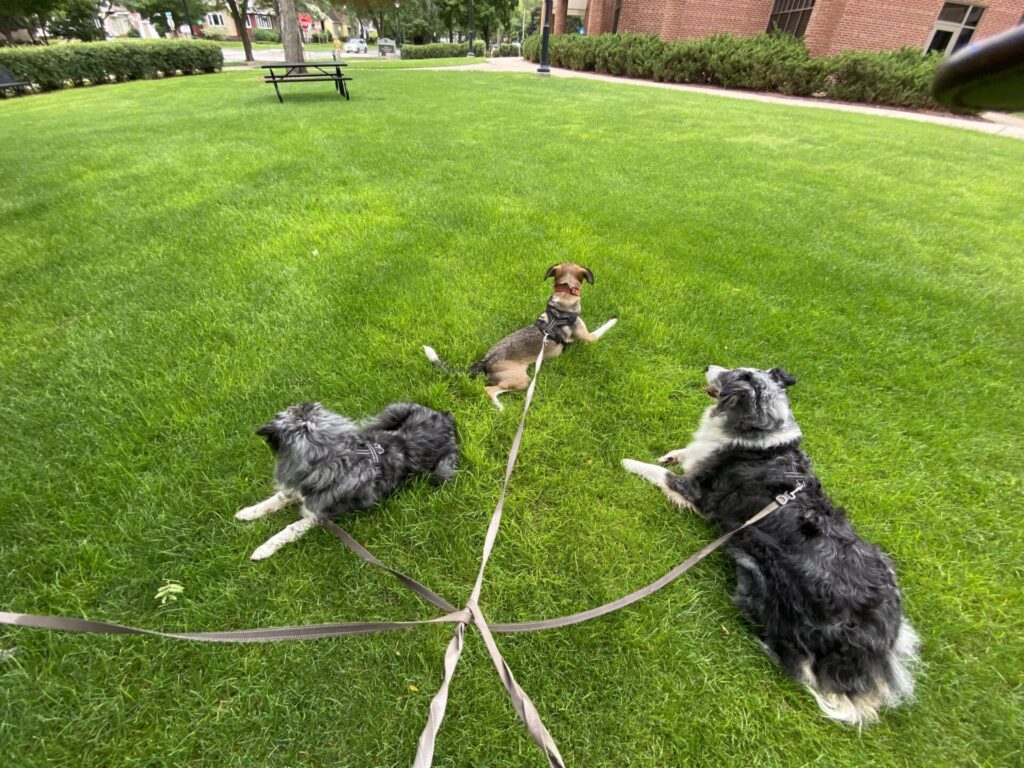 Remember, this is your dog's walk. You are on his clock and he gets to set the agenda. Go with the flow, enjoy the sights and sounds of nature, take the opportunity to catch up on podcasts or listen to an audiobook … and enjoy !